A Fresh, Clean Paradise Just For Your Lungs
We probably don't think enough about the quality of the air that surrounds us, (I know I didn't). After all, as long as you keep breathing it's okay. Well is it actually? What's the structure of the air today, and what kind of dangerous pollutants are in it? It may surprise you to know there are many pollutants surrounding us that can spark allergic reactions, cause various lung related illnesses and many more I care not to mention.
I am a true supporter of the idea that if you want to be healthy and energized, you really shouldn't take any chances. Don't let your lungs do all the hard work! If you're concerned about this issue, perhaps it's time to purchase an air purifier that will clean the air and give your lungs a well deserved vacation! I recently come across an industrial purifier/generator in the form of the Enerzen 03, and one reason it's earned a place on my website is due to the word "industrial"! Let's take a closer look.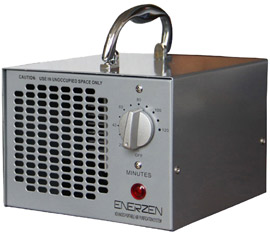 No filter technology
During my research, I've noticed that most of the recently marketed air purifiers' work based on filter technology however, the Enerzen air purifier utilizes O3 technology otherwise known as activated oxygen. So how does this work?
Be prepared, I'm about to go a bit technical again!
The ozone generator destroys harmful particles through the process of oxidation. It breaks down the structure of molecules specifically, molecules like viruses and bacteria. Incidentally 3.5 mg/hr of ozone is enough to kill germs, create fresher air and deodorize the entire room. The ozone neutralizes the airborne pollutants and the result is just what you need – healthy, clean air.
As you know, I am about honesty and there have been some complaints about the smell generated by the Enerzen after purifying a room. Apparently, it's similar to the smell after a rainstorm. It's not the most pleasant smell in the world, but if you can handle nature's ozone generator you can probably handle this too.
No filter cleaning
As powerful as filters can be, Enerzen decided to skip this technology thus creating a handy advantage to all their customers. No filter cleaning or replacement is required which (as you may know) can be a hassle, especially if you have to clean and replace it often. This unit requires replacement of the ceramic plate after 5,000 hours of use which should last you some time. This means no messy cleaning or costly replacement filters on a regular basis.
Powerful deodorizer
This industrial air purifier/generator doesn't just mask the odors in your home or office, it completely destroys them! One thing I've discovered everybody is raving about is the powerful removal of bad odors that, (it seems) only the Enerzen air purifier can deal with. It could be old and smelly furniture, carpets or even the entire room.
It removes unpleasant smells from cigarette smoke, mold, dust, water damage, paint fumes, pet odors, cooking smells and many more. This is something not all air purifiers can do, and it seems that Enerzen justifies the deodorizer part of the name.
Eco-friendly
Another advantage of this powerful deodorizer is its reduced energy consumption (something-else I'm very mindful of these days). It uses less energy and therefore enables you to save a lot and be eco-friendly at the same-time. Plus, this air purifier will really last the distance because the case is made from industrial grade steel.
Timer settings
The Enerzen air purifier comes with useful timer settings which allow you to control the length of air purification. This is really handy because you can leave it on all night or for just a few hours if you prefer. What I find great about this is you get to control the time unlike other purifiers that have automatic settings.
Mold removal
The Enerzen Company guarantees mold control. Almost every household deals with mold issues, and mold is so hard to keep under control. With the Enerzen air purifier you can not only eliminate, but control fungus and mildew growth as well as mold. This is extremely important because inhaling mold spores and mildew everyday could be destructive for your health.
Portable design
I know being able to carry an air purifier around is important to a lot of people, and that's where the Enerzen 03 impresses me. The design is such that it's possible for you to have clean, fresh air in your car and at your work-place. You can even take in on board your boat if you're lucky enough to have one.
In Conclusion
Although this air purifier might not be the greatest looker of all, it seems to really work with customers. And if you're willing to get past the looks, it could become your best "clean air" friend! If you would like to find out more, take a look at my favorite online retailer Amazon where there are often great deals on price.
Further Information