A Feature Packed Air Cleaner at a Bargain Price
I've discovered there are lots of reasons why someone would want to buy an air purifier. Perhaps it's because (like me) you suffer from allergies or asthma? It could be you have smokers in your home (or bad cooks), and smoke is an issue? You could even live in a heavily polluted area such as an inner city, or have problems with mold.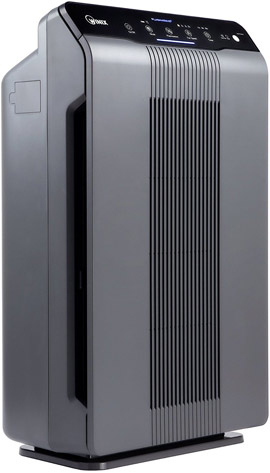 If you have all of the above to deal with in varying degrees, I feel your pain! Not just because the quality of air you're breathing is bad, but that you're also probably having a problem finding an air purifier to suit your needs. Fortunately, I might have the answer and it's called the Winix PlasmaWave 5300-2 Air Cleaner Model.
PlasmaWave Technology
Aside from the health benefits, the other reason I decided to include the Winix PlasmaWave 5300-2 on my website is the quality and value for money. Oh, and it packs a punch in terms of power as well!
Yet another reason why I took the opportunity to check out the Winix air purifier is its unique PlasmaWave technology, which eliminates issues that are often connected with ionizers. You see, ionizers are extremely efficient in dealing with the smallest airborne particles, but they also produce ozone, which can be harmful. With PlasmaWave, the microscopic particles are broken down at a molecular level and ozone isn't produced as a by-product – the perfect allergy solution.
Effective 3-Stage Filtration System
The first stage begins with particles being captured by a pre-filter that contains activated charcoal. Large particles such as dust, hair (human or otherwise), as well as most household odors are eliminated during this stage. Smaller particles which manage to get through are then collected by the True HEPA filter, which captures particles smaller than 0.3 microns such as pollen and other allergens as well as some viruses and bacteria. The third and final stage involves the use of PlasmaWave Technology.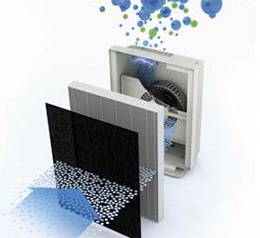 The PlasmaWave "ionizer" zaps impurities with either negative or positive charges which are then attracted by the filter. The trouble is that ionized particles, when inhaled, have been known to cause health issues. Fortunately, the Winix PlasmaWave only uses a weak charge to ionize the contaminants, meaning the ionized molecules will break apart more quickly, eliminating any potential harm to the people around it.
The Sound of Silence
One of the defining characteristics of this purifier is its quiet operation. It features a total of 4 fan speeds which include Sleep and Turbo modes. Lower settings make it ideal for your bedroom because it's nearly inaudible, and that's without making use of the sleep mode. If you are looking for that extra bit of power Turbo mode, while significantly louder filters an incredible amount of air.
One of the things I like about this air purifier is its built-in air quality sensor which automatically regulates the speed of the fan depending on the concentration of indoor pollutants. You can take advantage of this by running the unit's Auto Mode. When in use, the unit will speed up or slow down when needed without you having to adjust the settings yourself.
Performance Figures
The Winix 5300-2 falls into the category of mid-powered air cleaners and boasts some great figures for its price range. Its CADR rating is 243 for dust, 232 for smoke and 246 for pollen, meaning it's able to deliver that many cubic feet of filtered air per minute. The ACH rating, or the number of air changes per hour is 5. Both these ratings are valid for rooms of up to 360 square feet in size.
Covers More Square Footage Since Upgrade
The biggest difference between this upgraded purifier and the original Winix 5300 is that the 5300-2 can handle more square footage. Whereas the original version of this purifier could service only 350 square feet, this newer version can easily service 360 square feet.
I like the new look much better as well, but other than that, there really isn't that much of a difference between this purifier and its predecessor. Everything is very comparable. From CADR ratings to the three stage pre-filter, HEPA filter, PlasmaWave Technology, the 5300-2 is almost identical to the 5300. I know most of you are wondering why you would bother purchasing the newer version instead of the older one. Allow me to tell you about one more similarity – they have similar prices.
A Final Word
Both the Winix 5300 and the 5300-2 are impressive air filtration systems. They are crammed full of useful bells and whistles such as filter change indicator, built-in air quality sensor and a handful of other different modes, and all at a great price. A non-harmful ion charger also provides them with some extra filtering capacity, which is more than welcome, especially for those suffering from allergies or asthma.
Though the 5300-2 is only an upgrade in terms of new parts and the ability to service a larger space, its similar (if not better) price makes it worth considering over the original 5300. You can find the 5300-2 here on Amazon, at a great price, but you may want to check the original 5300 as well (if they haven't pulled it off the market it yet).
Further Information