A Small But Effective Way of Having "Pet Free" Air in Your Home!
As you hopefully know, my website covers a plethora of different air purifiers however there are times when you need a device like this that has a very specific purpose. For example, if you're having problems with allergies or asthma caused by pets you won't need an ionizer or ozone generator.
Instead, a simple air purifier which efficiently gets rid of pet hairs, dander and animal odors is worth looking at. In the case of the Hamilton Beach TrueAir Compact Pet air purifier (which you're about to find some information on) stuff like pollen, mold spores and dust mites are also eliminated.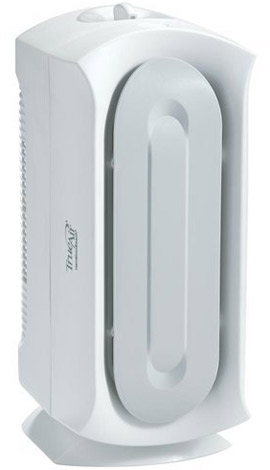 Features and Specifications
The Hamilton Beach TrueAir Compact Pet Air Purifier (as its name indicates) primarily deals with airborne contaminants produced by your pets. Despite its truly miniature stature of 10.8 x 8.1 x 16.4 inches, and weight of only 6.3lbs this little guy packs quite a punch. Suitable for use in rooms of up to 160 square feet in size, this air purifier uses a triple filtration system to get rid of both large and microscopic airborne particles indoors.
3-Stage Filtering System
The Hamilton Beach Pet Air Purifier shows that you shouldn't judge a book by its cover which is exactly what I did. Seeing how small it was, I was close to dismissing it as a gimmick, but then I was pleasantly surprised to see it has a 3-Stage filtering system housed in that tiny casing. During the filtration process, the particles come across a pre-filter which captures the largest ones. But, it doesn't end there because this pet air purifier also has two permanent HEPA-grade filters which capture 99.9% of microscopic particles.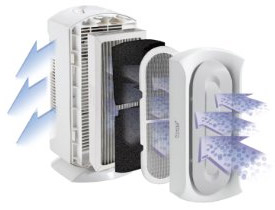 Last but not least, it has two carbon zeolite filters which are extremely efficient in eliminating smells and odors produced by your pets or other sources. Oh, and I should mention the pre-filter is washable, while the HEPA filter is permanent which means you only need to vacuum it every once in a while. You will however need to replace the carbon zeolite filters.
Ultra-Quiet Operation
This air cleaner has a total of three different fan settings: whisper, median and quick clean. The whisper clean settings as suggested by the name is virtually inaudible, and even the median is extremely quiet. Of course, the quick clean does make some noise, but it's hardly anything to complain about.
Compact Design
Thanks to the compact design, you can place this unit just about anywhere you need it. Another thing I love about it is the fact you can place it either vertically or horizontally depending on what works best for you. The casing itself looks elegant, and at first glance the unit actually looks more like a speaker than an air cleaner. The only thing you need to look out for, since it's so small and light is where you place as it might easily be knocked over. Other than that, it's surprisingly effective despite its size.
Overall
While not the most powerful or versatile air cleaner on the market, the Hamilton Beach TrueAir Compact Pet Air Purifier does its job well. It's also probably one of the cheapest models I've found on the market for those of you who suffer from pet allergies. If you're interested in keeping those coughs and sneezes at bay, this model can be found at a discounted price on Amazon
Further Information