Providing Clean, Crisp Air Efficiently and with Style
After doing tons of research, I decided to cherry-pick air cleaners which might appeal to just about anyone. For this page, I'm going to talk about an air purifier that will suit people who live in small to medium-sized homes, and it comes in the form of the GermGuardian AC4825 3-in-1 Air Cleaner with True HEPA, UV-C and Odor Reduction. Find out below how this unit can make the air you breathe feel simply divine!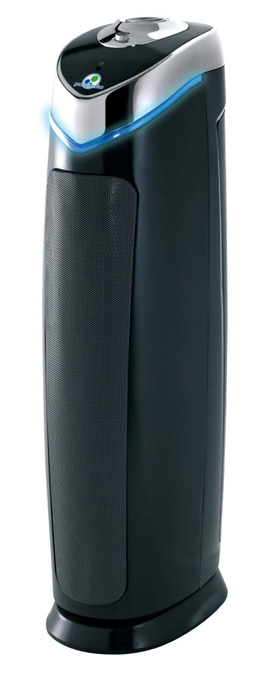 Multiple Stage Air Filtration
With its unique 3-Stage filtering ability, the GermGuardian AC4825 can cover a wide range of air pollutants. I'm going to get technical now, so bear with me.
The first part of the 3-in-1 system is the pre-filter which uses activated carbon to trap larger particles found indoors such as dust, lint and hair. Activated charcoal is very porous, and its uneven surface is great for trapping larger pollutants, but there is another benefit to it as well. A carbon layer efficiently eliminates odors stemming from household pets, cooking and tobacco smoke.
During the second stage, the air is filtered through a True HEPA filter. True HEPA filters have to meet strict standards which involve being able to collect close to 100% of airborne particles as tiny as 0.3 microns in diameter. For instance, stuff like pet dander, dust mites, mould spores and pollen all fall into this category.
The third stage involves air filtration using UV-C light. You see, when the air is exposed to short range UV light (UV-C) which is considered to be the germicidal UV light pathogens such as such as rhinovirus, E.coli and streptococcus are destroyed.
Capacity and Clean Air Delivery Rate
The AC4825 is suitable for rooms up to 155 square feet of in size which makes it perfect for most bedrooms. The unit's CADR (Clear Air Delivery Rate) is 100+ which effectively means it's able to deliver 100 cubic feet of clean air per minute with 5 changes of air per hour.
Enjoy the Silence
The GermGuardian AC4825 has three fan speed settings available: low, medium and high. When set on low, the unit is impressively quiet. In fact most people won't be able to tell its working if it weren't for the large blue LED, and the cleaner doesn't get much louder when the fan speed is set to medium. Once set on high, the unit emits noise that is similar to white noise but for most people, this power level will hardly ever be needed.
Design
While it's true that beauty is in the eye of the beholder, this device is an absolute stunner! I think it's the best looking air purifier money can buy. Sleek lines, a black casing and blue LED light make for one hell of combination! Actually, I think it will easily pass as part of your home entertainment system. On the top of the unit is a handle and it weighs a mere 10lbs which makes transportation much easier.
Ease of Use and Maintenance
Taking care of the AC4825 doesn't require much. All you need to do is wipe it down with a soft, dry cloth to prevent dust from collecting on the vents. The filters should be vacuumed once every two weeks on average and replaced every eight months, or every year depending on how often you use the purifier.
Summary
Call me biased, but this is hands-down the best looking air cleaner I've come across. With its efficient 3-stage filtering system, this air cleaner will eradicate all pollutants found in the air inside your home. It's quiet, easy to use and maintain and affordable as well. To become the proud owner of one of these, take a look at Amazon. You never know, they might have some fantastic discounts as well!
Further Information