The Leader of the Pack Among Air Purifiers!
Let me start by explaining an abbreviation you might have come across but don't understand. This is VOC or "volatile organic compounds". I wasn't familiar with the term either but then I found out that VOC's are basically petrochemical components that off-gas from appliances in the home, and these can be dangerous to your health. They're also incredibly fine which is why many air purifiers are unable to deal with them.
Most of the purifiers I have reviewed on my website will deal with unwanted particles such as dust, allergens, and dust mites which are larger than 0.3 microns in size, and thanks to HEPA filters technology they will effectively remove 99.9% of these contaminants. However, a lot of gases, fumes and odors are made up of particles so fine that they won't get picked up by your usual filters.
This is where the IQAir New Edition HealthPro Plus Air Purifier comes into play, because it deals with both issues.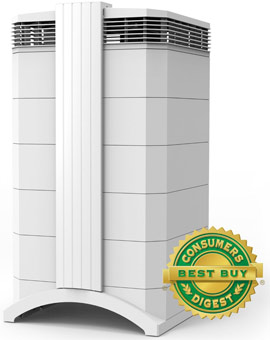 4-Stage Filtration System with HyperHEPA Filters
Before I get on with the review I have to point out the IQAir HealthPro Plus has won numerous awards. With such a sterling reputation I expected a lot from it and man, does it deliver! Now back to the subject of VOC. These components are as small as 0.003 microns so a standard HEPA filter won't be able to deal with them. Not so with the IQAir HealthPro!
But that's only the first stage of the filtration process that goes on inside this air purifier. It also has a granular activated charcoal (also known as activated carbon) component which adsorbs even the tiniest particles thanks to its porous qualities.
Add to that the micro-particle filtration and the pelletized chemisorptions filtration, and you've got yourself a home where the air is completely free of all pollutants ranging from pet dander, dust, pollen and allergens to viruses, bacteria, toxic fumes and gases. People who from suffer from respiratory diseases such as myself, have a powerful new ally in this outstanding air purifier.
Super Noise Suppression
Another area where the IQAir absolutely dwarfs its competition is the noise, or lack thereof to be more precise! There is a total of 6 different fan speeds to choose from. Operating on one of the first three settings, the unit barely produces any noise which makes it an ideal air purifier for your bedroom. It does get a bit louder when turned up all the way to eleven but personally, I like a certain level of white noise because it helps me fall asleep.
The reason why the IQAir is so quiet is its unique design. The fan motor in this unit is located between the filters which absorb sound. Also, the purifier has a double-walled casing which suppresses noise even further. Another source of noise from air purifiers is vibration, and this model has rubber suspension pads to help reduce it. It also has an air diffuser which cleverly deflects any noise back into the casing, while letting out low-turbulence air into your home. It sounds very complex, but it works like a charm.
Performance, User Friendliness and Energy Efficiency
Despite it being so quiet, the IQAir is able to deliver almost 800 cubic feet of clean air per minute. Its capacity is perfectly suitable for homes as large as 1,125 square feet. However, it only uses 27 watts of electricity when set at the lowest fan speed which is less than your average light bulb!
In order to earn the coveted title of "best air purifier currently available", the IQAir also comes with some additional bells and whistles like a handheld remote control. Apart from letting you choose one of six different fan speeds, the remote allows you to program the timer for automated operation. Another useful feature is the intelligent filter monitor which lets you know when it's time to replace the filter.
The Jury Is in
I think the IQAir HealthPro New Edition Plus air purifier is the absolute best you can get for your money. However, one thing that's prevented me from going out and grabbing one right now is its price tag. It costs a lot of money, but without a shadow of a doubt it's worth every single penny. I would recommend the IQAir to anyone but you don't have to take my word for it! If you like, pay a visit to Amazon where you will find plenty of VERY satisfied customers!
Further Information