A small solution to big problems
I have been through tons of reviews getting to know the health industry and its manufacturers better. It's the little things that get me excited. It could be the filter technology behind one purifier, but then it could be the sharp-looking design on another unit, it all depends. I've even noticed a tendency for people to get excited over low noise levels. It may be the first time I set my eyes on this purifier, but I couldn't help but notice how small and cute it looked. And yes, it really does look kind of cute!
A company by the name of GreenTech Environmental has now created the GT50 ionic air purifier. What's so special about this air purifier and whether it's really worth the excitement is something you're about to find out. I'm talking about the GT50 Professional-Grade air purifier which is destined (in my opinion) to be very popular indeed. So, without further ado let's find out why.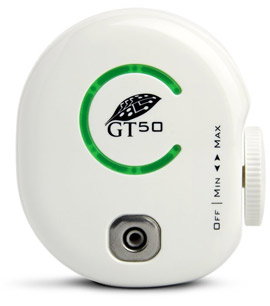 Filterless Technology
What I like most about this well-known manufacturer is their ability to produce products that give fresh, quality air so you don't have to constantly clean or replace filters. For me, this is not only a hassle but a cost. Another option of having clean air would be to use harsh chemicals which is even worse, and not exactly good for your health. Some companies are using filter technology to make the quality of the air better whilst other companies employ different techniques in order to make the air purifying process even easier for customers. But this one is a little bit different.
So, how does the GT50 work? Well, it operates by generating activated ozone (oxygen). Many users (me included) are worried about ozone production, but it is safely produced in this case at user-controlled levels plus it isn't meant as a permanent solution. After all, the idea of the GT50 is to use it in small areas where you don't spend a lot of time.
After the ozone generator has done its part of the job, the ionizer is there to produce negative ions and in combination these two work wonders.
The ionizer purifies the air, making sure that it's fresh and free from harmful particles. The activated oxygen masks odors, temporarily captures airborne pollutants, and permanently destroys mould and mildew. It also eliminates E-coli, Listeria, Staph, Candida, Salmonella, and Legionella by neutralizing them. If you've ever utilized chlorine in your home to kill E-coli, do away with it because the GT50 air purifier is 3,000 times faster!
Our homes are filled with potentially harmful dust particles and germs that lurk in difficult to reach places like plumbing joints and under trashcans, and this is why it's important to get into all the nook and crannies. The GT50 restores air quality and goes beyond what you can actually see and smell. This is one special characteristic that I've found not many other air purifiers have.
Easy to Operate
The small and compact design is yet another special feature I like because it can basically fit anywhere from your bathroom, to the office or a hotel room. Because it belongs to the smallest group of air purifiers on the market, I wasn't surprised to find that it's truly portable. Plus, the controls are adjustable allowing for more control over the level of deodorization you want.
Low Energy Consumption
Apart from being lightweight and easy to transfer, it's also energy efficient. This professionally graded air purifier consumes less than 7 watts of power. If you don't know exactly how much that is, it's less than the usage of a night light bulb. After all, if you can save a few pennies whilst at the same time, breathing in fresh, eco-friendly air why not. I wouldn't turn the opportunity down!
Overall
When I was done reading the reviews, overall I was impressed with this little gadget. The GT50 Professional-Grade air purifier is adaptable to different conditions, and from what I hear they are highly successful in eliminating germs and odors.
This small device puts you in control of the level of air cleaning you desire and with ease! In my opinion, if you're looking for good quality dust and germ free air, this purifier is the perfect choice. If you would like to find out more, feel free to take a look on Amazon. I know they often have great deals and discounts on all of their products and this one is no exception!
Further Information