Breathing and Thinking Smart
I know getting the perfect air purifier that does everything possible at a low cost would be perfect wouldn't it? Too bad! It's not possible. However, my research has proved you can come close to perfection or at least satisfy your fresh air cravings. Back in the day, when purifying air technology was just invented, we didn't have as many options as today. This makes life a lot more exciting, with plenty to choose from but then again, you're left with the annoying task of figuring out which one to pick.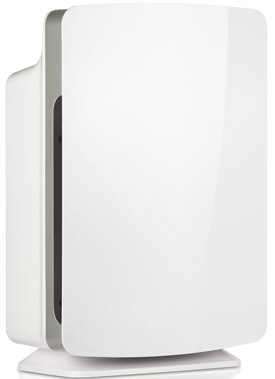 The name of the purifier I am about to dissect for you speaks for itself, namely the Alen BreatheSmart. Is this purifier worth your time and money? Is it going to benefit you in the end? Read on to find out what its prominent features are, and whether it really can measure up to your (and my own) standards.
HEPA-Pure Filter
The HEPA-Pure filter inside the Alen BreatheSmart is a powerful combination of several different layers of filter technology. They all work together to purify the air in your home, making it as clean as possible.
The BreatheSmart works in the following way: The contaminated air goes through a washable pre-filter at which point, the large particles are captured and I have learned that's a good thing because it prolongs the filter's life.
Next, the air goes through a special HEPA type material that is electrostatically charged and this attracts up to 99% of particles such as pet dander, dust, pollen, mold spores, and many other harmful pollutants. Then, the air is off to the Ionizer (which is ozone safe) and works to help the HEPA type filter make particles stick together in the air. This makes them bigger and therefore easier to catch – clever huh?
Although we'll get to indicators later, I feel that it's appropriate to mention the filter Life Timer indicates when it's time to change your filter. How often you need to do this is based on how much you use the unit and at what fan speed.
SmartSensor Technology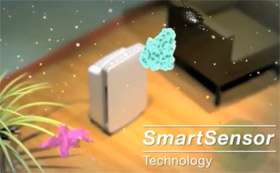 The Alen BreatheSmart air purifier uses SmartSensor technology that detects pollutants and airborne allergens. It basically adjusts the airflow on its own based on the level of potentially dangerous air particles, but at the same time stays eco-friendly. It saves energy and prolongs filter life, and the reviews I've found regard it as a smart, energy saving machine that's also powerful but quiet. Lots of people get deterred immediately as soon as they find out an air purifier is loud which is definitely not true in this case due to the ultra-silent mode.
WhisperMax Technology
For those of you who don't actually know how the WhisperMax Technology benefits you, I'll break it down. Alen's WhisperMax Technology uses a specially designed fan as well as an air chamber that when combined together, really maximize clean air dispersion throughout the entire room. Plus, it does this without creating a lot of noise. The technology used makes this unit powerful to the point where it can easily deliver clean air in a room of up to 1000 square feet which is pretty amazing for such a small device.
Light Indicators
Have I mentioned I love the sleek design which is accompanied with light indicators? Well, now I am and I do indeed love it! It has intuitive touch buttons and a very simple display which makes it easier to use and understand (simplicity is something I think we all want in life). Apart from having a Life Timer indicator, this air purifier also contains three different indicators which detect the amount of harmful pollutants in the air. Blue is for pure air, orange means there are moderate airborne particles while red indicates there are airborne particles that are possibly dangerous.
Guarantee for Allergy Relief
Customers who have purchased this air purifier claim it really does help with allergies, although to what extent does differ from person to person. Incidentally, if you do purchase one (and I think this is very fair), and find it doesn't make that much difference the company will give you a complete refund within 60 days.
Lifetime Limited Warranty
Alen BreatheSmart is pretty much the only air purifier manufacturer that has a warranty like this. You don't have to worry about where to get it fixed in case it breaks down or needs replacing. If you buy their purifier they make sure that you, as a customer are satisfied whether you bought it 2 years ago or 20!
The Verdict
Personally, I think that if you're looking for an air purifier that will give great performance but at the same time has a classy design, you'll hit the jackpot with this unit. If you want to (no pressure), I have made it possible for you to look at the product on Amazon and if you do decide to purchase one, Amazon always has great offers whatever time of year it is!
Further Information