As someone who has spent hours poring over the details and specifications of thousands of air purifiers, large and small, I have come to a great understanding of the struggles faced by those of you with mid-sized rooms – there just isn't much available to you. It's almost as if the creators of air purifiers, worldwide, got together and decided that rooms come in only two sizes, large and small. But, what about those of us with mid-sized rooms? What about those of us who want to purify the air in our connected living, dining, and kitchen spaces?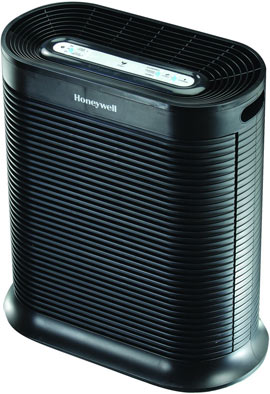 The Perfect Fit
I am super excited to tell you that although few quality options exist for mid-sized spaces, I was able to track down one incredible air purifier made specifically for that purpose. This Honeywell purifier is made for rooms of approximately 465 square feet.
For comparison sake, you are probably wondering what 465 square feet actually looks like. Though your room could be a combination of different dimensions or you could actually be looking to put this in an open space consisting of multiple misshaped rooms, just image a space about 21 feet by 22 feet. The smaller purifiers are made for rooms about 10 feet by 10 feet. The larger ones, on the other hand, are made for offices and open floorplan homes of 1000 or more square feet. This mid-level option will be the perfect fit for your mid-sized space.
About Filters, Allergies and Speed Settings
The carbon prefilter and True HEPA filter will snatch up almost all of those annoying micro-sized particles in the air, up to 99.97 of particles 0.3 microns or larger. I should be honest here in telling you that some HEPA purifiers with ionizers and UV light options will manage to capture particles as small as 0.1 microns, but when you look at this from a scientific perspective, you see that it really isn't that large of a difference. The air in your room will be mighty clean, regardless.
The HPA300 will also trap mold, allergens, dust, and even natural odors – making it a good choice for those with allergies and asthma. Honeywell often advertises with claims that they're the number 1 recommended brand by allergists, and while I may have picked a different brand as the best choice for this purpose, I do believe that Honeywell purifiers are indeed a very good choice if you suffer from allergies. Customer reviews back this up.
With the ability to fully circulate air up to five times per hour, you can rest assured that you will still manage to clean the air, even in some of the most polluted environments. Whether someone is smoking in the room or you've been working with chemical cleaners, this high-power filtration system will strip your air of impurities. If you want to conserve energy and do not have highly polluted air, you can simply turn down the system to a slower setting. This will circulate the air slower, but that shouldn't be a problem in any regular environment. If things change at all, just bump it back up a level or two.
Conclusion
In summary, you will not be disappointed by this fairly-priced, high-quality air purifier for mid-sized rooms. Trust me, it's hard enough to find a good one for a mid-sized room, but I truly believe that this one will not be beaten in terms of its quality or its price.
You can head over to Amazon to find more details on the Honeywell HPA300 – you'll see that I'm not the only one recommending this air purifier.
Further Information