Enjoy the Luxury of Clean and Fresh Air
I've come across several good brands of air purifier, and that includes the manufacturer Fellowes. The Fellowes quiet air purifier resembles many typical units that come with a true HEPA filter which works to safely remove almost 100% of airborne pollutants that float around your house or office. Below, I've given you an insight into just how good this air cleaner is.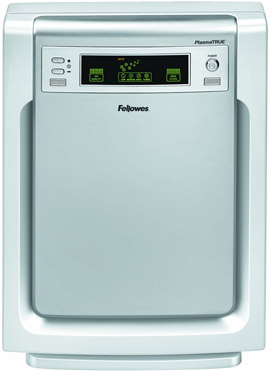 Four-Stage Purification System
The air indoors (if you don't already know) is up to 5 times dirtier than the air outdoors and that's why this Fellowes unit has a four-stage purification system. The system is designed so that the air is filtered on four levels, making sure the outcome is just clean and healthy air.
True HEPA Filter
A true HEPA filter removes harmful airborne particles that are as small as 0.3 microns. What this means is mould spores, dust mites, germs and viruses, pet dander, pollen and ragweed are destroyed. But the list doesn't stop there. It can also get rid of unpleasant odors by neutralizing them, especially strong smells that are hard to get rid of like cigarette smoke.
The Fellows AP-300PH is able to clean the air in a room up to 300 square feet in size, but you can also order it for 230 square feet rooms. The customer reviews for this product are raving and it proves to be excellent at improving the overall quality of the air we breathe indoors.
Carbon Filter
Another powerful addition to the purification team is the carbon filters that are equipped with Sanitized technology. This effectively reduces fungi, dust mites and bacteria. What many of us don't think about is that filters can get contaminated as well. By utilizing sanitized technology, Fellowes has managed to make sure other filters in the system don't become clogged with the very particles the unit is designed to get rid of.
PlasmaTrue Technology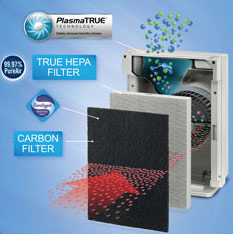 The Fellowes AP-300PH also uses PlasmaTrue technology which neutralizes harmful viruses, bacteria, and germs. The particles are energized and refreshed, and then let back into the room. This is all done without producing ozone or other potentially harmful chemicals. Additionally, the ionized field helps to safely remove airborne particles.
Quiet Operation
If you're anything like me, noise with an appliance like this is important, and in my humble opinion the Fellowes air clear has ultra-quiet operation. This makes it perfect for use in a child's bedroom (or your own), and in other places of the home that require a bit of peace and quiet.
Light Indicator
Yes, there is the issue of filter change. However, this air purifier has convenient indicator lights that tell you when your filters need to be replaced or changed. In addition, a speed adjustment lets you manually set the fan speed, so you decide what power level you use the purifier. This also helps save the life of the filters.
Summary
I would like to conclude my story about the Fellowes air purifier by saying this: Everyone has different standards when looking for an air cleaner, but whatever you might look for it's important to always choose one that is quiet, works efficiently and most significantly, provides you with clean and healthy air free from germs. If you so wish, this specific model can be found on my favorite online retailers website, Amazon.
Further Information