Sturdy, Robust And Powerful
I have searched through hundreds of websites in order to find as much useful information as possible that will ultimately help you decide which air purifier you should buy. (I'm not showing off, I just want you to know I mean serous business with the reviews you'll find here)! On my website, I try to keep things as informative and concise as possible so you don't waste your time.
For this review I have one of the premium air cleaners available on the market, the Blueair 403 HepaSilent Air-Purification System. Since Blueair is one of the most established and popular brands of air cleaners out there I had to review one of their products, so I went with the 403 HepaSilent which happens to be one of their top-selling models. So, let's see if this air cleaner by Blueair is any good.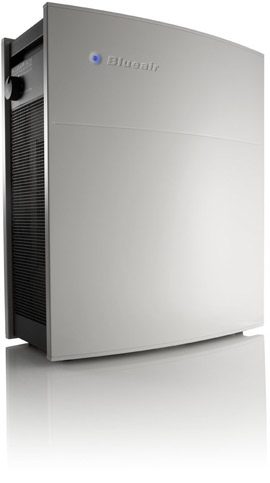 Features and Specs
First of all, I have to point out that Blueair has a wide range of different air cleaners, and it might be easy for you to get them mixed up. This is the 403 model which sits somewhere near the middle of the range between the 203, the 503 and 603.
Like all these models, the 403 features HEPASilent technology, a 3-speed fan, a casing made out of galvanized steel and some impressive CADR and ACH numbers. The unit measures 11 by 20 by 23 inches and comes with a 5-year limited warranty.
The casing especially caught my eye because not only is it recyclable, but there is absolutely no chance of off-gassing since it isn't made of plastic. As I continued to read further about the Blueair 403 it was clear I had found a manufacturer that's put a lot of thought into actually engineering the device instead of just marketing it.
Filtering
The Blueair 403 relies on a powerful combination of electrostatic and HEPA-like technology which is capable of ridding the air of particles as small as 0.1 microns in diameter. The unit uses an ion emitter to negatively charge the airborne contaminants which are attracted to the unit's polypropylene filter which has a positive charge.
But, that's only one benefit of using this type of filter. You see, polypropylene filters are less dense than standard HEPA filters which means better air flow through the cleaner, lower consumption of power and quieter noise levels.
Last but not least, polypropylene filters are water-repellent, eliminating even the slightest chance of mold or mildew build up which is often the case with HEPA filters. Adding to the already formidable filtering power are the active carbon pre-filters which capture the larger airborne particles and, (if that wasn't enough) it also has a Smokestop filter which eliminates smells and odors from your household. The 403 also has a magnetic timer that lets you know when it's time to change the filters.
Silent Operation
The Blueair uses a 4-speed fan to deliver clean air into your home. The first three settings are exceptionally quiet to the point where it won't even disturb your sleep (something I find HUGELY irritating)! For the more technically minded among you, the noise levels are between 32 and 52 decibels.
Performance Figures
Sorry, I'm sticking with the more technically minded readers here! The unit's CADR (Clean Air Delivery Rate) ratings are: 240 for dust, 240 for smoke and 240 for pollen which means this air purifier is able to deliver that many cubic feet of clean air per minute. The ACH (Air Changes per Hour) rating for the Blueair 403 is 5 per hour. For the less technically minded, these figures apply to medium-size rooms of up to 365 square feet. Air flow numbers are also higher than those of your normal air purifiers because of the Blueair 403's non-restrictive polypropylene filters.
Design and Durability
I have found that factors which are often overlooked when choosing an air purifier are sturdiness and reliability, and for a good reason too because most of your average air purifiers are made out of cheap plastic. The Blueair 403 on the other hand looks like it came straight from a nuclear submarine with its robust steel housing. The design is modern and elegant, and it will fit nicely within the décor of any home. The manufacturer clearly believes in the quality of its own product since the 403 boasts a 5-year limited warranty.
A Few Final Words
The Blueair 403 HepaSilent Air-Purification System is, without a doubt one of the best premium air cleaners your money can buy (or so I think). It's also one of the quietest models on my website, and you can be rest assured it will last you a long time no matter how much you throw at it. Its price tag is steep, but you won't regret spending a single cent on this particular cleaner.
If you are inclined to get one for your home, pay a visit to Amazon since they always have some good deals along with something I love – free shipping!
Further Information